TechVariable is a technology product development company from Assam, India. As a young, curious, and dynamic team, they are the only end-to-end software services company from Assam and have the best of talents who are genuinely curious about new ideas, possibilities, and the best way to bring them to life.
The co-founders, Mr. Utpal Sarmah, Mr. Nilotpal Boruah, and Mr. Ratnadeep Bhattacharjee started out back in 2015 and now work with clients from around the world on technology consulting and developing intelligent solutions. They help global startup founders and innovators transcend their business from an idea to a product and help them go to market 2x faster. They mostly work closely with product owners to create their MVP, starting with Product Requirement Documentation, creating information architectures and wireframes, designing as well as developing responsive web applications and mobile apps. Also, they have been working with bigger enterprises on Digital Transformation requirements to modernize their systems in order to stay competitive; indeed, to even stay operational.
"We look forward to premier partnerships with our customers by understanding their purpose of existence and product vision. This empathy elevates our customer's experiences and deepens the engagements to harness technology and design with a shared mission." – Mr Ratnadeep Bhattacharjee, COO of TechVariable.
Being headquartered in the heart of Guwahati city close to all the top educational institutions like IIT Guwahati, NIT Silchar, IIM Shillong, Assam Engineering College, Tezpur Central University to name a few along with many other regional engineering colleges of the state serves them to foster a culture of industry-academia collaboration. Being at the core of recruitment processes in the colleges, they are easily able to handpick the best of the engineering talents. It is worth mentioning that TechVariable's group of interns won the first-ever Smart India Hackathon organized by the MHRD as part of the Digital India initiative.
Over the years they have successfully established an in-house Talent Incubator that provides a tremendous opportunity to the students to get ready for the industry and get the first-hand experience of working with TechVariable's national and international clients while still in their college. Institutes like Tezpur University facilitates recruits to spend their final semester at TechVariable, this benefits both the scholar to work on an innovative project and we as the company to train the recruit not just in technology but in business skills as well. Over the years, TechVariable has built a community of IT professionals, students, technocrats, and industry leaders and working towards their vision of putting India at the global stage of the world of Information Technology.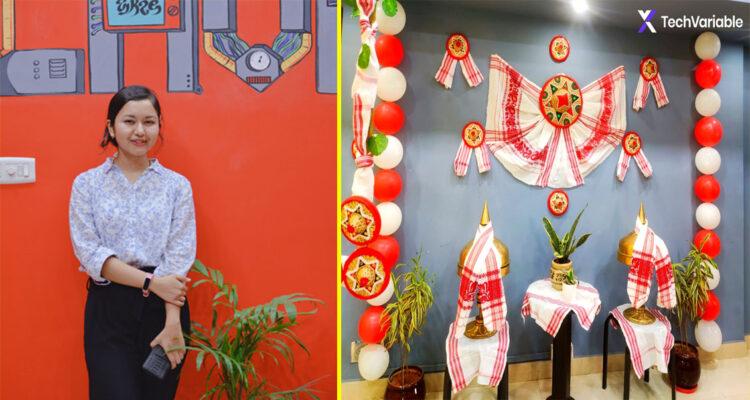 From working with startup companies based out of the US to digitally transforming North-East India's biggest Bus Service Provider, from developing Machine Learning based news aggregator platforms to creating analytics tools to evaluate and analyze the existence of Gender Misrepresentation in Myanmar, from working with a Fortune 200 giant to developing Fintech products, their journey has been a source of inspiration for the regional and budding entrepreneurs. Their latest opportunity of working with the world's leading specialist in air transport communications and information technology, corporates from the US and South-East Asian countries and with one of the world's premier biopharmaceutical companies is really thrilling for them!
The team's next milestone will be going from a startup company to a scale-up company and looking forward to future prospects. They are focused on enhancing their service delivery model and entering into new markets, adopting new technologies, and creating a niche for themselves in the AI/ML business segment. With end-to-end product development and consultancy services for tech startups, they seem to be optimistic about their growth from a startup to a global enterprise. The insights and experiences garnered while working with some of the world's pioneering businesses help them provide bandwidth for innovation and new product development. Their new product called TechVariable Digital Solution is an omnichannel cloud data visualization tool that enables Data Visualisation, Data Processing, Data Access, and delivers Data Intelligence. They are planning to run pilots with some prominent data engineering companies in India really soon.
"Our dedicated professionals are currently working on releasing a cloud data visualization platform as our first in-house product. We have initiated the business development and would very soon launch our product for the beta customers." – Mr. Utpal Sarmah, CTO of TechVariable.
A few of TechVariable's recent yet major projects include the digital transformation of a global MNCs remuneration management system employing around 93,000 employees across 30 countries. They have also built Market-driven paradigms for a reputed Destination Management Company to streamline the dynamic travel industry. Traveling on big data has become now a craze as there is a rapid increase in the craving for sharing economy than going by custom travel solutions. TechVariable's professionals are also personalizing service actions and deliverables with an application of Custom Project Management for a top diversified company.
The team developed a Custom Project Management application to meet the client's requirements. It is based on a key matrix that aims to ease functions like creating and removing actions and deliverables. It gives access to the management to align and assign work at different hierarchy levels, restricts users, reviews UI elements, and customizes roles as and when required. On the other hand, they are also enabling exploratory data analysis to drive flawless workforce management for a US-based pharmaceutical giant and making reconciliation more user-friendly with the use of the right technologies for a reputed wellness firm.
"Our proven framework for success built and improved over the years brings together people, process, technology, and design to improve engineering and increase business value for our customers. Our clients have benefited by getting to work with our top-rated global talents to superior-tech work alongside their core teams while aligning with their goals to engineer at speed." – Mr. Nilotpal Boruah, CEO of TechVariable.
The open and inclusive work culture adds to the beautifully designed workspace along with ample benefits such as Leave Encashment, Performance Bonus, Health Insurance, Employee Referral Policy, Remote Working, etc. promotes a motivating environment for the employees. TechVariable believes their people to be the prime reason for their success and have been able to serve global clients throughout these years. Everyone in the team has the same vigor for self-development along with customer success and each individual has become entrepreneurial in nature growing beyond their years of experience.
"We tend to create illimitable possibilities through high-paced technology and look forward to efficient long term tech-personalized partnerships." – Team TechVariable.