The Need
"The remedy may be worse than the disease"-Romanian proverb holds so true for a number of agencies that factor into a typical medical treatment pipeline. Imagine a chronic patient who cannot visit the doctor for treatment or even manage to get to the medical shop down the alley, imagine stuck in queues at a generic drug store.
Even worse imagine your doctor missing your prescription history off his local ERP/CRM. Mobility issues, misdiagnosis, misplaced documents, miss-delivery, missed appointments, mismanagement and keep adding to the medical mess. The key word here is "miss", 'because you keep missing what is pertinent! Despite the presence of a swath of online medicine startups and a clutter of drug delivery apps, the gulf between a typical urban patient and a congenial doctor vying to provide the best of the treatment has been a kink in modern medical practice. Technology should never be limiting. Sad it is, and that's where Gigadocs stepped in.
The Creed
Gigadocs is a one-stop portal for a comprehensive medical management, augmenting and mobilizing better health care practices and medicine delivery with a globally benchmarked document management that is as impeccable as an atomic quartz watch.
Incepted in 2015, the startup soon pervaded the boundaries of Hyderabad, and the city of Nawabs to set up base in Pune, a city young at heart, with a vision of preventing prescription abuse that inflicts not just the average patient but young adults and adolescent addict on clinical drugs.
Whilst 95% of kids that roam on the streets are an opiate user, almost about half of that percentage of collegiate seeks high on prescription substance. Commenting on the issue, Guru Sravanth the founder says, "We should treat a hard copy of the prescription as criminal currency. Compared to typical drugs like cocaine and heroin, prescribed drugs cost 1/10 and loosely available in the market without a prescription.
The criminal currency concept has already proved to be a success in other countries like the US with New York being the very first city to implement the I-STOP bill. The idea caught on and Gigadocs brought the concept in Indian subcontinent where it is still unheard of. It caught the eye of angel investors from a diligent group that led them to invest a seed fund to advance the cause of this noble venture.
Of Physicians, Patients, and Pharmacists
Amid a cacophony of a multitude of apps and similar services, Gigadocs identify itself as a one of a kind 360° solution that connects, Physicians, Pharmacists and Patients, building a ecosystem that is sustainable and scalable at any level, without the doctors or the pharmacies to compromise or modulate their modus operandi, all the while simplifying services for patients and other benefactors.
Each and every step of the treatment is via the app, including registration, consultation, and prescription! After a typical consultation, the doctor prescribes the medicine in the portal which connects with the registered medical store that sends the medicine to the patient's home, with a 20 percent discount! Gigadocs cut down the process of patient downloading other medicine delivery apps every time when you are in need of medicine.
Since elderly people cannot operate apps yet are on good terms with their doctors and trust them for life, the respective doctors extend their service by raising a request on behalf of the elderly patient. Gigadocs is super-fast! It delivers medicine in 3 hours (which is very crucial) and thereby much ahead of the industry leaders that typically take more than 24 hours.
Gigadocs can accommodate 8.5 lakh offline pharmacies into their system and pharmacies can use Gigadocs ERP to handle medicine delivery. Big players like 1mg, needs etc can cater only in top cities, whereas Gigadocs is ready to roll its solution both in urban and rural areas. How cool is that? It's Queue-less cool. The process eliminates queue for better time management for both the doctor and patient, in turn, saving arbitrary expenses.
The key features of Gigadocs are an online appointment, digital prescription, electronic inventory, inventory management, expense management and industry updates. This may not seem disruptive, but the stats seem to be a tell tale of a unicorn in the making.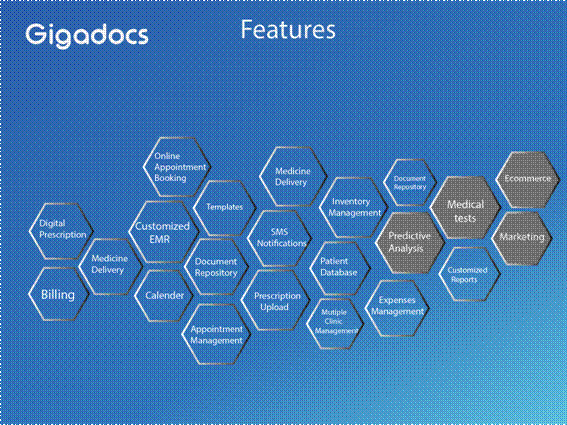 The journey so far:
The journey albeit arduous has been fruitful for the servitude of the few faithful who make Gigadocs a unique venture. So far more than 50 clinics are onboarding the Gigadocs express. More than 10,000 doctors registered, 10,000 + appointments made and counting.
The venture has made more than 5, 00,000+ in subscription amount and 4,00,000+ valued medicine delivered. The team is all set to deliver the next phase of expansion across major metros and even tier II cities. The vision is crystal clear.
"We want to create an ecosystem where doctors, patients, pharmacies and diagnostics centres should connect with other and cut down the hassle of tons of documentation happening in typical process" remarks the Gigadocs team with a glint in their eyes beholding a future where IOT will form sort of a neural framework for the existing technology and services, catering to health services in manners which were beyond possible about a decade ago. There's more to than meets the eye at the conference room that hosts brainstorms amongst the think tank at Gigadocs.
The market size of online medicine is about 1.4 lakh crores with only 5-7 percentage covered by major players into the online medicine delivery. Also, there's huge potential in rural areas. With a target to reach every nook and corner, covering over 90% of the market, the venture is geared up to bring out of box approach and novel applications integrated in its feature thereby enabling its existing infrastructure beyond measures, commissioning more than a million dollars in investment and as much profit, whilst keeping feet on the ground catering to the needs of the humble debilitated patient providing quality healthcare.
Visit Gigadocs Website