Here is another incredible story of a promising skincare brand that is revolutionizing the fight against ageing, but the approach is absolutely organic. Let us know more about Caring Compounds and its founder.
Shubhita Agarwal, the founder of Caring Compounds, a dermatologically tested skincare brand, has witnessed the process of ageing through the eyes of other women and her own womanhood journey for over a decade. She decided to create high-performance anti-ageing inventions that strike a balance between nature and science after observing women's battles against ageing , including her mother's. Isn't it a dream come true that it's simple to use, incredibly efficient, and Organic Certified? She believes that with the correct technology, you can get closer to the elements of the Earth and be filled with energy and spirit.
About the Founder: Shubhita has done MBA in Finance and worked in companies like Dabur and Jaypee cement in different verticals. And she has also done her skincare formulation course at a leading global School. Her purpose is anchored in 'The Circle of Honesty,' which was inspired by Shubhita's mother's remarkable path and wants to empower women all around the world with every Caring Compounds product. Every product of Caring Compounds is made with a purpose, a mission, and an open heart. The brand is a result of a series of candid experiences that they feel will transform today's women's routines into more caring ones.
How did Caring Compounds come into being?
In her formative years, Shubhita's mother suffered from a severe case of acute Melasma; (Melasma is a skin disorder where brown or grey patches or spots appear on the skin, primarily on the face. It is often referred to as chloasma during pregnancy) she turned to accessible plant-powered recipes and organic treatments for remedy. At every level, from ingredient sourcing and product formulation to production, packaging, and everything in between, every Caring Compounds product demonstrates its dedication to honesty and follows the global COSMOS-standard. Caring Compounds COSMOS ORGANIC certification is a quest to earn your trust.
Range of Caring Compounds:
Shubhita grew up in close proximity to nature, where she discovered the world of organics with the help of her father. Shubita's mother's ageing issues exposed her to a lifestyle that centered around healthy skincare habits and introduced her to a holistic approach to anti-ageing. Their best-selling products are anti-pollution day detox cream, which protects skin against dust, pollution, and UV radiation. Revitalize + Repair night Gel helps repair and restore skin while you are asleep; Acne Defense Serum and many other products focus on uplifting skin, thus improving the texture of the skin.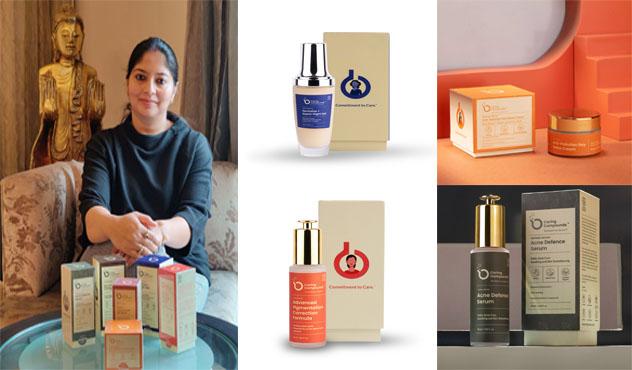 Are the Caring Compounds products certified? What does COSMOS certification signify?
Caring Compounds products are COSMOS-certified.  The world's highest organic standard for the cosmetic business is COSMOS, which is recognised by ECOCERT, a well-known French organisation that certifies organic products. ECOCERT promotes the use of ingredients produced from renewable resources as well as production and manufacturing methods that are environmentally safe in order to guarantee an environmentally friendly result. All of our product packages and product pages online have a complete list of components in addition to respectable ingredients and cosmetic items.
A company that has attained a COSMOS ORGANIC or COSMOS NATURAL signature has proven that its products are truly organic or natural by meeting a number of stringent requirements.
Peta Vegan & Cruelty-free, with this accreditation, we can state categorically that we do not support or engage in any sort of animal testing. We are a vegan company as well. Additionally, our products are dermatologically tested to ensure they are non-irritating and suitable for human skin.
Is Caring Compounds also giving back to society?
Caring Compounds is committed to working towards various social causes, especially child education. Shubhita personally believes in contributing to the betterment of society. Caring Compounds products are made in India with sustainable packaging, are also PETA certified, cruelty-free and vegan, and thus, soothing for the skin as well.