While direct-to-consumer (D2C) firms continue to thrive in the face of renewed Covid 19 increases, a new wave of entrepreneurs is discreetly entering the digital arena. Textile marketing has traditionally been a feature of local store marketing. Almost everyone has a vendor or store where they can get the perfect fabric for their personal style.
Offline, however, it is uncommon to find numerous varieties in one place. In terms of convenience and alternatives, online shopping has made people abandon the traditional methods.
Fabcurate is one such Surat-based brand, which has grown from selling a few hundred meters of fabrics a month to more than 60000 meters per month by the end of 2020 due to the rise in online demand.

How the Fabcurate brand was built

Sanjay Desai, the director of Fabcurate, comes from a fabric-related entrepreneurial background. Sanjay is also a director of True Color Printing, a company that specializes in digital printing of textiles for the large order market. He wanted to start a new business, so he got involved with e-commerce.
"I had already seen the increasing demand for digitally printed textiles after being in this industry for almost 8 years, which made me aware of the problem that local people were facing, which was bringing their imagination to life. People didn't have a platform from where they could source small quantities of custom digital printed fabrics at affordable prices," he says.

That's why Fabcurate is the only company that offers custom-made products to its customers at no extra cost and with no minimum quantity.
Sanjay started his business with just a handful of products. It was only later, in 2020, that he decided to add products of all kinds, including Indian handicrafts like handblock, indigo dyeing, bandej, which is becoming less and less important. His team goes to the smallest towns like Akola, Dhamadka, Pedana and Bhuj in search of the hidden cultures and arts like Dabu, Ajrakh, Ikat and Bandej respectively. Not only this, organic fabrics namely organic cotton, banana, and bamberg are also on offer. Sanjay believes in offering variety to the customers while taking conscious steps for the betterment of the artisans.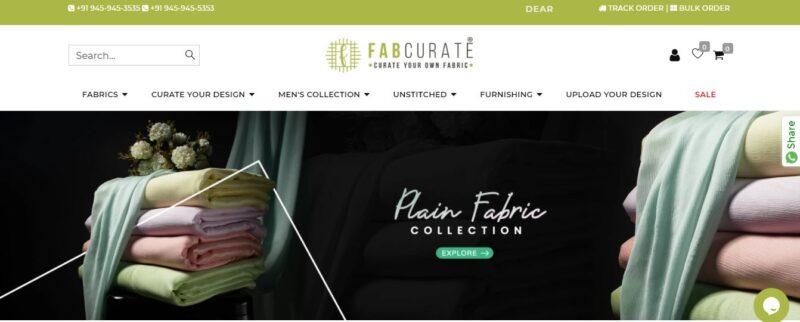 To deliver the best, Fabcurate has strict quality control and protocols. Sanjay believes that the outfit shapes a person's personality and hence should be of high quality. The entire process, from deciding the thickness of the yarn to packing the final order, is done in-house under strict guidance. After each step, the fabric is inspected for flaws or distortions.
In terms of fabrics sourced from the culturally rich artisans, the fabrics are altered according to the brand's needs, which in turn goes through the four-step quality control system.
First is the top-level, followed by the merchandising team. Next is the inspection team, which checks every inch of the fabric after it reaches the Fabcurate premises. Lastly, the packaging team inspects the fabric one more time before the order is packed and shipped to the customer.
Making growth happen

Initially, it was a bumpy ride for Fabcurate, but later, through continuous efforts, targeted marketing and word of mouth, customers started coming from all over India. And with time, the reach grew even to the US, UAE and the UK.
Fabcurate runs its business entirely online and has seen a growth of 500% in the last six months, with more than 9000 orders per month and counting with more than 1 Lakh customer base.
Since they specialize in Digital Printing, it has been relatively easy for them to increase their inventory and meet the demand. It has also increased the sourcing of Indian craft materials like hand block, which in turn creates jobs for the artisans.
Plans for the future

Sanjay plans to capture overseas markets and be omnipresent. They want to offer competitive prices to their customers and reach the 100 cr. mark by 2023.
They plan to expand their team and provide a livelihood to a large number of people by giving them respectable jobs to meet the growing demand.