Freshcraft, a startup formed by a team of aspiring minds from India, bagged manufactoring support from Motherson Group, the world's 7th largest manufacturer of components for the automotive industry, for the development and manufacturing of their product. Tenshield, a scientifically proven and Intelligent Indoor Safety Device designed to improve indoor air and surface quality. It was launched at Dusit Thani Dubai last week.
Expressing his delight, Mr. Vineeth Kumar Mettayil, CEO of Freshcraft Technologies, stated, "This is a great opportunity.  Tenshield is an exceptional product designed to significantly improve the air and surface quality around you. From the choice of materials and product design, Motherson envisions incorporating sustainable initiatives in whatever they do – an ideology that aligns with our objectives and vision at Freshcraft. We aim to create a sustainable society and deliver eco-friendly products. We are rooting that with the support of Motherson Group, the product will reach new milestones in the future."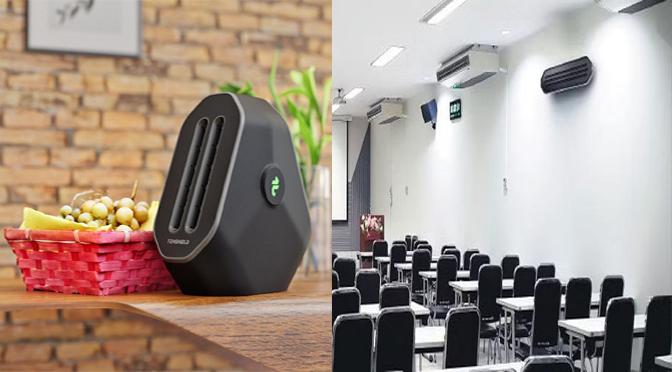 Motherson's CEO, Mr. Manchanda, quoted, "We are delighted to have joined hands with Freshcraft Technologies. They are a young team brimming with not just energy but the determination to solve issues. They were very sure about the qualities and standards needed. They have worked hard."
Tenshield disperses plasma-mediated anions into the surroundings and thus creates a protective shield around you from all air and surface-borne illnesses. It substantially neutralizes all pathogens in the air and surface in real-time, thereby improving indoor safety with a significant reduction in the particulate matter and other harmful volatile organic compounds often present in it. The performance of the devices is tested by various international labs, including Dubai Central Laboratory Department under Dubai Municipality, CB & CE Testing by Intertek Group Hong Kong, CSIR- National Physical Laboratory (NPL) New Delhi, and the Biocompatibility study by CSIR-National Institute of Pharmaceutical Education & Research (NIPER).
On this occasion, Dr. Sohan Roy, Founder Chairman & CEO of Aries Group, one of the supporters and investors of Freshcraft, stated, "I am delighted to know that Motherson Group has decided to become a part of this incredibly unique product. I am sure that with their intervention,  Tenshield will soon become the world leader in air security devices. I wish  Freshcraft all the best for their journey ahead."
Freshcraft Technologies was launched by a group of socially committed individuals who aim to provide a better life through advanced technologies. The unexplored arena of the ever-emerging technological possibilities lays the foundation for radical innovations, which are believed to be the cornerstone for the growth and prosperity of the organization.