Equisential is a Jaipur-based Ayurvedic cum Healthy Essentials start-up through which they are providing dietary & lifestyle regimens to new moms and other essential products in a form of laddus, panjiris & Kadhas to cure general health issues.
This startup has been founded by a young lady Ms. Shubhangi Sharma in a super-vision of an Expert who is also her mother-in-law and possesses a rich experience in preparing "Jappe k laddus" or "Post Pregnancy Diet" & her another pillar is her mom itself, working in Govt. Mahila Chikitsalaya, Jaipur, and heading a Gynaecology department. Both her mother & mother-in-law helping in preparing the mixture of products considering the medicinal benefits appropriate to the new moms & providing consultations to them as well.
Shubhangi running this venture from the last 10 months & delivering their products to PAN India currently in tier 1 & 2 cities, and very soon expanding their network to foreign as well. In a short span of 10 months, they have clocked revenue of 9+ Lac & having 1000+ new trusted customers allowing them to serve them.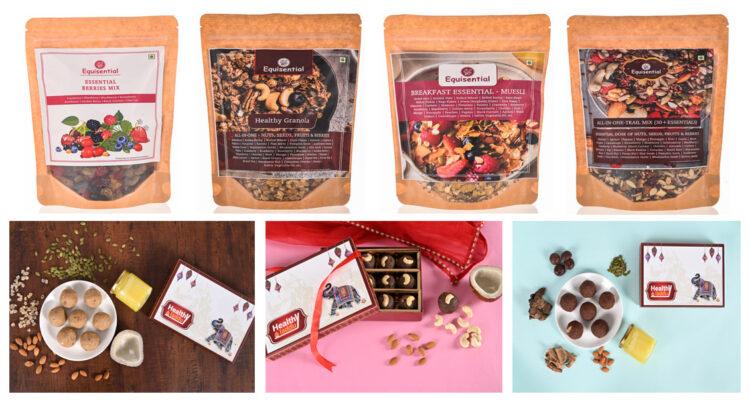 They have a wide range of products includes Muesli Ashwagandha Laddu for boosting immunity and Asthiposhak Panjiri for curing Joint issues & and many other products for multiple concerns.
Under their Healthy Essentials product range, they have Multi-Grain Muesli, Granola, Vegan & Gluten-free Nut-Mixes, Nut-Butters, etc to ensure a holistic diet. Their products are a rich source of antioxidants, fiber, protein; a storehouse of minerals and vitamins.
Started completely offline in Jaipur a few months back & developed the customer base via offline marketing, newspaper leaflet inserts & word of mouth they have now developed their website –www.equisential.in & listed all our products from where you can purchase their post-pregnancy packages, laddus, panjiris in just 2 to 3 steps.
From manual cash collection to now completely online with Integrated digital payment modes with tracking & communication for smooth processing of each order.
They delivering their products in tier 1 & 2 cities in 4-7 working days. Their products covering Ayurveda-based laddus range from Muesli Ashwagandha Laddu for boosting immunity to Gokhru Laddu, a panacea for PCOD & kidney-related issues. Dana Methi Laddu, Flax Seeds Laddu, Asthiposhak Panjiri, Gond Laddu are few other products that help in curing joint issues, providing a complete nutrient to new moms & help in breast milk production.
Under their Post Pregnancy Package, they are giving a complete 45 days dietary plan having different types of Kadhas – Dashmool Kwath, Shatavari Kalp, Pipalimulla Churana, Pachak Churana, laddus – Saunth (Dry Ginger) Laddu, Supari Laddu, Ajwain Laddu, Dry Fruit Laddu, etc.
You can visit their website at www.equisential.in to view their wide range of products & buy from there itself. You can reach out to them via Instagram @equisential.in or can call/WhatsApp on +91-9571185870 for any health-related queries.