UIncept, a premier Ed-Tech accelerator is going to host iXi summit on 3rd & 4th March 2022. The Summit is a 2-day marquee annual event that brings together all the stakeholders in the ecosystem to share their learnings, perspectives and future insights on the promising Ed-Tech sector. This year it will be conducted in a hybrid mode, addressing topics spanning from analyzing investment trends to identifying white space opportunities in the Ed-Tech businesses.
iXi Summit 2022 envisions participation from Global VCs, Industry Experts, Successful Entrepreneurs, C-suite Executives and Government Representatives. As always, the accelerator plays an active role in creating and strengthening the worldwide Ed-Tech community through this event.
iXi is all set to host some of the biggest names in the start-up ecosystem including:
Abhishek Maheshwari – Akash Foundation, CEO
Amit Patel – Owl Ventures, Managing Director
Avi Warshavsky – MindCET, CEO
Mujtaba Wani – GSV Ventures, Principal
Piyush Prakash – Niti Ayog, Senior Research Officer
Arjun Mohan – Upgard, CEO and many more.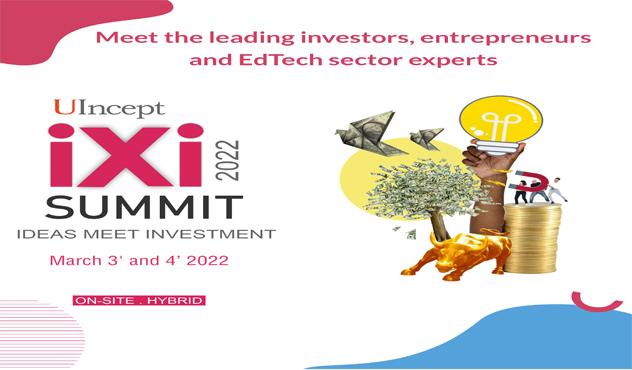 "This year's iXi summit is different from the last two years, as we'll showcase eminent global speakers and experts. This 2 day summit shall aid people of start ecosystem from across the country to optimize, restructure, upgrade and enhance their businesses while networking and collaborating with the global audience." said, Manish Gupta, Founder – UIncept.
"We're all geared up and raring to go for the third season of iXi. With each year we have assimilated the learnings, while working with different Ed-tech startups. Over the course of the two-day summit, UIncept is hosting 8 panel discussions which shall help entrepreneurs understand the ground reality and open a paradigm of opportunities" highlights Divvya Guptaa, CEO- UIncept.
iXi 2022 summit will host a series of panel discussions and Q&A sessions. The event is being held in a hybrid format. Anyone interested in attending can sign up on the accelerator's website and interact directly with the speakers at the summit that in itself is an brilliant opportunity for all the Ed-tech startups.
Who should attend: Start-ups, Innovation Enthusiasts, Investors, C-Level execs, Companies, Accelerators, and entrepreneurs.
For Media enquiries,
Karan Singh Chauhan, Marketing Manager- UIncept
Email- Karan@uincept.com
Phone- +91-8448185955
Sneha Thakur, PR Executive
Email – sneha@uincept.com
Notes to the Editor:
About UIncept
UIncept Ed-tech Accelerator is a global entity based in Downtown Gurugram, Delhi NCR, India. Over the past 6 years, UIncept has worked with over 50 companies (mostly Ed-tech) and have supported them to raise funds more than USD 12 Million.
To know more, refer: