Sample Hall is a Business-to-Business (B2B) online order booking app for Buyers & Suppliers who currently have to travel to book orders. Our Mission is to digitize existing business relationships.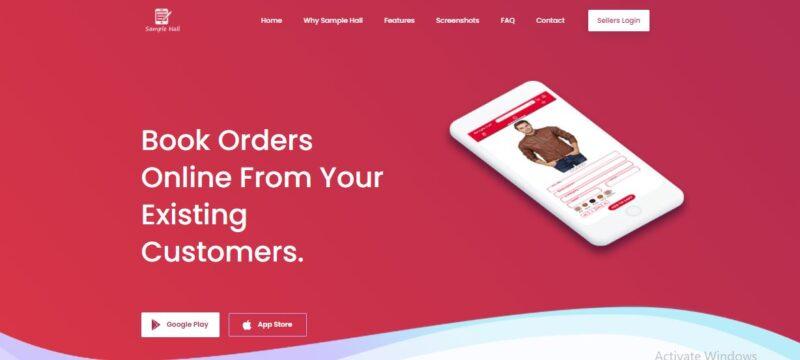 Inability/lack of willingness to travel for order booking in this Covid-19 gripped the world. Being a retailer myself, I have to travel often to Mumbai to buy goods that I can sell at my store. My family does not want me to travel due to safety concerns. I face this problem myself.
Biggest Concern: Manufacturers don't want to share their entire collection on WhatsApp, as it becomes easy to forward it to others. To address this need for privacy, we have disabled Buyers from saving, sharing, or even taking screenshots of product images. Also, as desired by the Sellers, they can allot limited time to their Buyers to view their collection and place orders. Being a part of the industry, we understand their perspective very well and have incorporated the same in our online order booking solution.
Ever since my childhood, my father would often travel to big cities to buy fashion apparel, which we could sell at our shop. There were times when he would take a night train to New Delhi on a Saturday, purchase the goods on Sunday and then take the night train on Sunday itself to return home the next morning at 6 am, before heading to the store at 9 am. To be honest, since my father was always traveling or busy at the shop, I rarely got to spend quality time with him. I often used to feel sad about it.
In December of 2019, I started working on a mobile app that would let shopkeepers place orders online – to their existing suppliers. Why only to existing suppliers? Because 85-90% of a retailer's purchase is from the suppliers he has been working with for since long. The thought was that this app would perhaps save retailers some time, which they could spend with their families. At least other kids could have what I missed out on.
And then the Covid-19 pandemic hit. Everybody was locked into their homes, let alone traveling to another city. Even after the lockdown was lifted, we were all skeptical of traveling and fearful (we still are) of being gripped by the deadly virus. It was during this time that we launched Sample Hall.
Our offering is designed from the bottom up, with the Seller's need for 'Privacy of their Designs' at the core. Below are some of our features that Suppliers really value:
Only the Buyers they allow can view their collection & place orders.
They can allot limited time to their Buyers for the same, e.g. 2 Days, 5 Days, 10 Days or they can keep their collection open forever.
Buyers cannot save, share or take screenshots of their collection. Now, they can upload their collection without the fear of their designs being copied.
In the next 3 years, we want to expand to international markets with a high-quality, complete online order booking solution. Since travel has been restricted due to the Covid-19 pandemic, we see a huge opportunity in digitizing existing business relationships & eliminating the need to travel for booking orders.
What are the benefits of Sample Hall to Suppliers?
Eliminate the need to travel for booking orders. Be safe & save on the expenses incurred during travel.
Grow your business by booking orders 24/7.
Sell your ready stock, book samples, and take repeat orders.
Have unsold inventory? Sell it at a discount.
Increase your Customer Loyalty by making it easy for your customers to buy from you.
What other features do Suppliers value?.
Upload products & manage orders through mobile or desktop. To do so from your desktop, log in to our website: https://seller.samplehall.com
Add photos or short videos of your products, in your local language.
Create your own Categories, Color & Size charts.
Create PDF / Catalogues to share on WhatsApp, Facebook Messenger, Telegram, etc.
What are the benefits to Buyers?
Be safe during these troubled times by using our online order booking app.
Save time & money by eliminating the need to travel for purchase.
Inventory sold out? Order instantly on Sample Hall.
Purchase conveniently by viewing the collection of your various suppliers on a single platform.
Easily involve your sales team in making the right purchase decision.
According to a Google's research report, digitizing B2B sales would lead to 17%* growth in annual business. The reason for this is that the Buyers could order small quantities more frequently. Currently, if Buyers have to travel for purchase, they do so only when their Stock-in-Hand has reduced tremendously. But with the option of ordering even small quantities regularly, Buyers would not only improve their cash flow (as it won't get blocked in payments), but also ensure that their customers find something new in their store every time they visit, thereby increasing customer loyalty.
Sample Hall is available on all platforms:
iOS: https://bit.ly/samplehalliphone
Android: https://bit.ly/samplehallandroid
Website: https://samplehall.com