Kaadu Organics produce, source, quality check, and deliver pesticide and chemical-free food products. The product range comprises varieties of native rice, millets, dal, wood pressed oil, jaggery products, Kaadu spices (whole and powdered), and value-added products like pappads, honey-soaked dried banana, and laddus made from native rice and millets.
The team runs on a belief that residual free food is a right of every individual. So, because of the nature of the product and the methods involved in creating these products, Kaadu hopes to reach as many families as possible with their wonderful and healthy food items that are not only tummy-filling but also soul-filling.
Kaadu Organics has a lot of sales in its portfolio, but jaggery and rice are the most popular. This is most likely due to its one-of-a-kind natural processing method. Kaadu Organics has an online and offline presence, with the majority of online sales occurring on their website, kaaduorganics.in, and they distribute their products across India.
They also mentioned the market has seen a surge in demand for organic products since the increase in the population of health-conscious people, and according to IMARC Group the organic market is expected to grow at a 25.25% CAGR (Compound Annual Growth Rate) for the period 2022-to 2027 i.e., the size of the market is expected to be tripled in these 5 years.
Actually, during the journey of ideation, designing, and prototyping the initial thought was to bring people back to naturally grown food, that's when he turned to the farmers for help. Their passion was not merely to do
business, but to do it correctly. To do so, they had to verify the farmers on boarded with them share the same vision and philosophy in farming and believe in "Moodhadhiayar Vazhiyil Vivasayam," roughly translating to traditional agricultural methods without the use of chemicals or pesticides at all stages of cultivation. Identifying such committed farmers was the biggest task of all.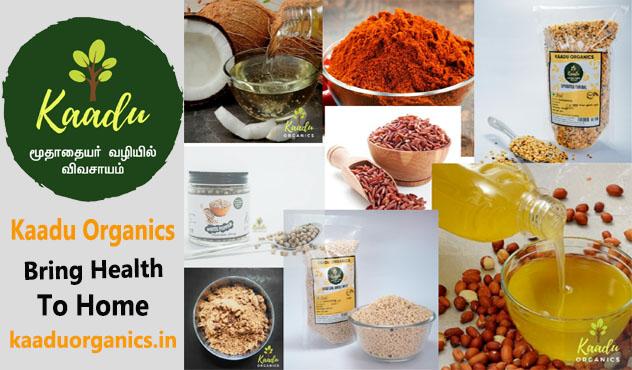 The visionary person behind this aim, is Mr. Arun Kumar Gandhi, the founder and CEO of kaaduorganics.in, He comes from Valliyur, Tirunelveli District. He completed his UG as a Chemical Engineer from Coimbatore Institute of Technology (1999-2003) and PG as an MBA graduate with Finance Majors from Bharathidasan Institute of Management (2005-2007).
Arun has always wanted to contribute something meaningful to society. So, the thought of producing chemical-free food itself was enthralling and he started slowly from there. He initially started producing their own food which then expanded to 4 families and now close to 300 families.
He said – "I am a foodie and I love to try a lot of diverse food varieties. Then it occurred to me that instead of having a lot of great food in terms of quantity, why can't we have good food in terms of quality. This thought seeded an inspiration for me to come up with this company."
Arun continued, "I proposed the idea of buying barren land and doing agriculture to my family and in-laws. The first piece of warning came from my mother-in-Law, which I still remember is "You are trying to mix Salt in the Sea and trying to distinguish the salt which you added." She meant I will be spending all my hard-earned money on Agricultural land and after a few years, I will not able to backtrack and account for the money I invested, though it would be pretty huge. After a lot of initial reluctance from my family, I went ahead searching for suitable land in 2015 and finally by Mar 2016 we acquired our first farmland. Since then, we've learned a lot related to the soil, people, industry, landscaping, crop, seed selection, borewell process, bringing in technology, and so on; the list is never-ending".
Along with his team, every work is completely manned by the founder himself with support hailing from friends, well-wishers, and family in shaping up the future course of the company. Currently, he has 2 team members in the warehouse, 2 people managing the first farm near Kanyakumari and on an ad-hoc basis, a few laborers work across all the farms.
The name Kaadu Organics was selected by him because Kaadu means forest. The forest does not operate under a pattern and never do they resort to the usage of fertilizers or pesticides on the plants' growth. It generates its security blanket and sustains itself. Similarly, he wanted to establish a place where the plants grown could self-sustain. It's a long-term aim, and we're striving towards it. And, like a forest, Kaadu should be able to manage any storms that come its way than to seek short-term remedies that undermine the nature and the wellbeing of its inhabitants (Us).
Kaadu's customer base is a mix of direct customers, resellers, and bulk buyers. The graph continues to increase in all the segments, which is a healthy sign.
The Maiden Voyage
Arun started producing consumables catering to the needs of 4 families and which has seen a steady healthy growth to what is now close to 300 families and built connections with various retailers, whole sellers, and resellers in Bangalore and Tamilnadu. He expanded his business to E-Commerce and walk-in orders directly from customers. Apart from these channels, he engages in mounting stalls in various apartments in Bangalore that serve as hotspots for sales. These distribution channels brought in new customers with the mindset of improving their lifestyles. He interacted with them, forged a long-standing relationship with them, and then as quality promises in the world of marketing and sales, the customers did word-of-mouth recommendations for Kaadu which brought even more patrons.
The Impediments
On this journey, Kaadu faced many challenges. The biggest challenge in this field is to create awareness and educate masses. Most people believe whatever they see on the internet and social media without even having second thoughts and seem to forget that Google just publishes articles written by other people. For instance, people have a common myth that anything in black is good for health, it might be true in some cases, but in others, it would be far from the truth. One such example is jaggery, the colour depends on a variety of factors like soil, climate, and water level during irrigation, etc.
Another major challenge is maintaining inventory. As Kaadu believes in hardcore natural and organic processes, there is absolutely no usage of inorganic and chemical pesticides to maintain the inventory. Instead of pesticides, they employ a fumigation process by using a herbal mix of leaves namely Neem, Pungan, Nochi, Chilly, Vasambu, and cloves for Smoke. This smoke helps to keep insects and other pests at bay thus helping in maintaining the organic nature of the products throughout the cycle.
As predicted by IMARC, the sector is likely to witness a huge growth in the Indian Organic market. To meet this increase in demand and grow along with it Kaadu is also trying to diversify its portfolio further by including the rice and millet-based flour segment. Steps are being taken as part of the due diligence to accommodate new and exciting changes to their portfolio and business. Apart from this, they are in talks with the alternate channels for sales which will not just boost their sales figures but also helps them to venture into new geographies thereby increasing sales potential, higher market penetration and widening the customer base inevitably an extended organic family. Additionally, Kaadu is also looking to bridge the information asymmetry across various entities of the supply chain by employing technology which can be used to track and trace the products to its roots and thus justifying the words – "Farm to Fork".