The soul of India lives in the villages. India is the country where 76% are the villages, but many people live in the urban areas only. In the cities, all will have the busy life, and the food habits are different from villages. In the current scenario, all the food items like vegetables, fruits are full of chemicals which are harming, causing many health issues. That's y many are going for organic products even though they are costly.
So this made to think about how we can make this into a business model. As of now organic vegetables available in the metropolitan cities and urban areas, but fruits are not available and mainly which are purely organic. So Sathish Kumar from Mottandipalayam village thought to sell the mangos to the urban and metropolitan cities and started the firm Salemmango in the year 2016.
How the idea came for a startup?
The next moment I completed my B.E (Bachelor of engineering), I was into an IT company. Its dream for many students to enter into MNC after the graduation but that happiness lost no longer because I am out of company due to recession in the IT industry. Then I planned to give a try to various government exams meanwhile thought of taking care of my family and our family business (Agriculture).
In the village, while I am interacting with my friend Dinesh Kumar who is also software an engineer. In the evenings we will talk daily regarding the various topic, one evening in a random talk we thought why can't we sell the mangos to the cities from the village, where there is a lot of adulterants and carbide mangoes. He said yes. That's it. The idea came from frustration which made me start my own business, which is giving employment to many village people.
When you started your startup?
The Idea only cannot fetch anything without our hard work and passion towards the dream which you are dreaming for future. The decision finalized in the March 2016, it is not enough to start the company. So we did all the groundwork like research, feasibility study, after gathering all the information we went for website design and development, which is done by September 2016, but we officially launched on November 2016. That was the day which changed our lives.
Founder Of SalemMango?
I have done my bachelor of engineering from Adhiyaman College; so many people in the village call me VIP (Velai Illa Pattadari). I have born in a remote village named Mottandipalayam in Salem district which has no newspaper or Cable facility till date, in an Agricultural family.
SalemMango Team?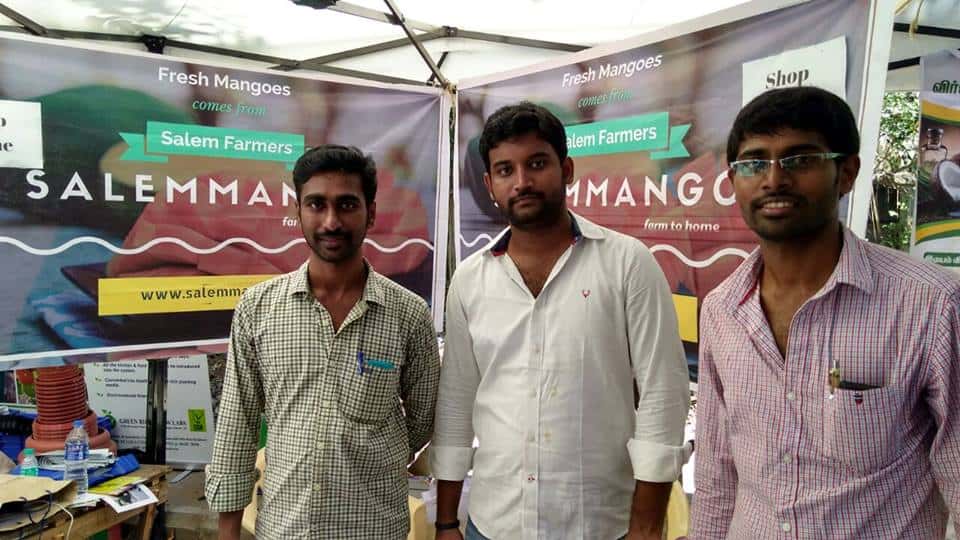 My startup initially started with the 3 members; one is myself Sathish Kumar founder of salemMango and the other 2 members are co-founders of the company Dinesh Kumar & Sangeeth who are my childhood friends, they also from agriculture family and before they joined me they worked as the Software engineers.
I can say we three along with every farmer in our village is a part of our team. Producing the fruits, food items for packing and shipping is done by every one of us, and the profit is shared amongst us.
Problems?
As we know the startup way is not so simple, it will have a lot of obstacles, ups, and downs we experienced. We have the idea, product but we don't know exactly how we can reach out the market in the urban areas. Despite having the quality foods in our hands initially, we faced a lot of problems in technology, transportation, and marketing. Believe it or not, I just started using a Smartphone 8 months before. High-speed 3G internet connection is still a daydream for me in my village.
Future planning of the company?
Our plan is to connect the people in the city who longs for natural and quality food, to farmers who produce quality foods in a traditional way at a better price. We are happy to serve you traditional foods to everyone. But unfortunately, people in City won't have time to think about villages like us. So we are sending you the healthy and organic ingredients to cook healthy food which everyone deserves.
Funding & mentor details if anyone there?
The company did not raise funding from any company until now, maybe in the future also it may not be required. Our families and friends who are a great support throughout the journey from the initial stage of the company.
Till the date from the starting of the company friends and families gave us a lot of ideas and motivation to be successful.
What are the biggest misconception people have about you? Why do they have that? What's the reality?
The misconception is that organic products will be costly, and the supermarkets and many stores are selling for a higher cost when compared to other products. But we can give at a price lesser than supermarkets as we are the producer and direct givers
How hard is it to have a work-life balance as a startup founder and how do you manage it?
I don't think so, because we have lots of time to spend with friends and family. We will save a lot of time because we are free traffic, horns, and the most important thing is the happiness of hearing birds singing, dancing peacocks make you fall in love with our village lives.
Who are your competitions and how are you better than them?
We have many established competitors like big basket Amazon groceries. We provide the original products from farmers to homes.
What is the inspiration tagline that will be on your wall or you follow?
The tagline which inspires me and makes me every time more energetic to work 200 percent more than when what I was before is 'Farm to Home'; which will be the great boost for our team and for myself.
Last and finally I want to say something to the young people who wanna become the entrepreneurs is Dream big and Take calculated risks.
Visit Website: https://www.salemmango.com/