Startup Name: HealthifyMe
Start Year: 2012
Founders: Tushar Vashisht, Mathew Cherian, and Sachin Shenoy.
Website: www.healthifyme.com
In the whole universe, human creatures are most intelligent when compared to all, and it is the best creation of nature as of now. The human body is a machine which runs with an intellectual brain, and efficient engine. The current scenario in all over the globe is very disappointing, as many are suffering from health issues due to lack of proper diet and fitness.
There is a quotation saying "Exercise is king, nutrition is queen, put them together and you have got a kingdom"; which tells the importance of fitness and nutrition. Nowadays, people are becoming more conscious of health and looking for good trainers for fitness, nutritionists to be fit. HealthifyMe gives solutions by using artificial intelligence.
HealthifyMe:
It is the country largest, most lovable app for health and fitness application. It will be the personal wellness coach for you to be fit and healthy. Initially, the startup was born in Delhi under the name of caeruz ventures Pvt. Ltd was registered. Due to various reasons like it is difficult to spell, and not catchy. So they decided to come up with the new name HealthifyMe. At the end of 2012, the company officially launched with the name HealthfiyME.
The founders of the company are Tushar Vashisht, Mathew Cherian, and Sachin Shenoy. Before, the starts HealthifyMe all are well settled and working in top companies in the world.
Tushar Vashisht: He is Co-founder & CEO of the company. He graduated from the University of Pennsylvania after that he became investment banker for Wall Street, and in the Bay Area. Afterward, he shifted to Singapore to work with Deutsche Bank. He came back to India in 2007 for Aadhar project and ended up his journey in 2009. He was into new for living the daily life with 100rupees.
Sachin Shenoy: Co-founder & CTO for the company. He graduated from the Universe of Calicut in the year 1998 after that we worked for HCL, Google.
Why has it born?
The founder Tushar Vashisht came to India in the year 2007, to work with Aadhar. His journey with Aadhar ended in 2009 after that he got to know that average Indian monthly income as 4500. So, this made them experiment to live with only 100 by excluding the rented space. This experiment has gone viral over the media and internet. It is time they realized that in India for food no one gives an exact amount of calories it is providing for the human body. They got to know the potential of their idea which can be killing if it enters the market. It is the reason to start the HealthifyMe.
The journey from Starts from Bangalore:
At the end of 2012, they shifted to Bangalore where they meet Sachin Shenoy who became Co-Founder of the company after some time. The startup raised INR 1 Cr through Microsoft accelerator, so Microsoft accelerator wants them to be in the Bangalore as it is the best place for the business and learning of new things.
How does it work?
If you a buy a new product, they will give you a manual for how to use the product. So here is the manual for HealthifyMe.
For everything there will be some procedure to follow, for this app also we have totally 4 steps, to utilize at max level.
Set your fitness goal:
        Every person will have some or other goals in life. As it is a fitness app the goals of yours should be like to become fit, have a healthy diet, build muscles, and loss of weight. Based on your goal only it will set a budget based on various parameters.
Personal Coaches:
          After submitting the fitness goal, the team of HealthifyMe will analyze after that they will assign you a personal trainer & nutritionists. They will train you according to your lifestyle.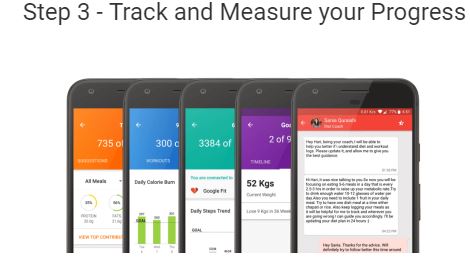 Track & measure your growth:
         They will track your daily activities, food, work out information based on that they will analyze and give the feedback to stay on the momentum to stay healthy.
   Discover new in you:
 With the help of nutritionists & trainers, we can reach our goal. More than 1.2 million people        are using this application to make their health better.
Birth of RIA:
RIA is an artificial intelligence tool like other AI tools Siri in Ios, Google assistant for Google. In the initial stages of HealthifyMe, each nutritionist associated with 40 members. As the startup started growing the number of members associated with each nutritionist is also went to 100. So it became difficult to handle those many members by one doctor, they thought why can't we go for AI. Then they decided to develop an AI tool especially for HealthifyME, and they named it as RIA. Now with the help of Ria, each nutritionist can serve for more than 270 customers.
RIA will answer for all the common issues which are raised by the customers. Only issues difficult to answer will reach doctors. The tool is having 150 million food details, and 15 million messages.
Why RIA?
It is India's first AI tool exclusively for the nutritionist and fitness trainer. It has some which are super excited to know.
It serves you all the time (24*7)
Instant replies.
It keeps you on motivating.
Funding details:
In the year 2012, the startup funded INR 1Cr via Microsoft accelerator program.
The next funding is in the year 2016, by Inventus Capital, IDG Ventures, and Blume ventures of $ 6 Million through series A funding. Another funding of $ 1 Million made by investor Neelesh Bhatnagar, NB Ventures.
At the end of 2017, Series B round raised $12 Million from Sistema Asia Fund, Samsung NEXT, Atlas Ventures, and Japan's Dream Incubator.
Recently in November 2018, it raised $ 6 Million from extended series B funding. The fund raised by the previous investors of the company.
Developments:
In the initial stage, each nutrient can serve 40 customers now it is 270 by each nutrient. The number of nutrients has increased to 250. Over the 5 Million app downloads and is rated as the best app with a rating of 4.7. It stood as the best application in the three consecutive years 2015, 2016, 2017.
It is serving million active users every month, 4 Million lifetime members; by 2018 the monthly revenue is an average of INR 2.5Cr. The employees of the company reached 400 while it started with 20.
New AI tool RIA introduced in the year 2017, by which the number of customers increased and it is running successfully. It is planning to expand its operations to international market. Now at present it is concentrating on Malaysia market. It is available in both android and IoS platforms.