BlushBee Organic Beauty, a homegrown, intentionally conscious and organic beauty brand, has rediscovered cosmetics that perform brilliantly without irritating the skin. Shobana, the co-founder of BlushBee Organic Beauty, like many other women, was concerned about what she put on her skin. She used to obtain her cosmetics from Europe or the United States since they were not accessible in India. After researching, she discovered that her favourite products included indigenous Indian elements. What began as the creation of things for personal use quickly grew into a profitable brand.
The Indian Beauty Industry has had its constraints– It was controlled by global companies and lacked suitable ranges for diverse Indian complexion, skin tones and textures. Shobana & Navneethan, Founders of BlushBee Organic Beauty, identified these gaps in the Indian market and decided to #BeeTheChange. Shobana, Founder– BlushBee Organic Beauty, is a Chartered Accountant and a Wharton University of Pennsylvania graduate. Navaneethan, Founder– BlushBee Organic Beauty, is an engineering graduate with business leadership experience.
Shobana & Navneethan established the brand in September of 2021, and the Founder duo has been shaking things up since then.  For them, the inspiration for developing organic cosmetics has always been their faith in nature's caring capabilities. Beauty should not be painful and should never be at the expense of your ideals. BlushBee Organic Beauty observed that the Indian market lacked organic cosmetics that catered to a wide range of skin tones and textures. This inspired the Founders to create items that not only make us look beautiful but also make us feel beautiful. Shobana & Navneethan are advocates of authentic to synthetic.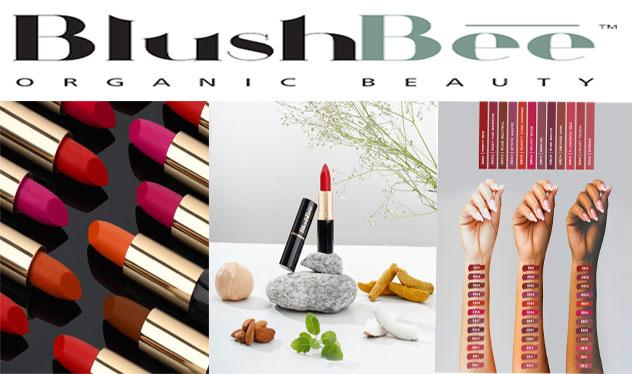 The brand provides a broad choice of cosmetics essentials, including 12 intriguing lipstick hues, 2 eyeshadow palettes, 5 blush shades, 16 nail polish shades, and your makeup stash's unsung heroes, like Rose mist face toner, Soy Based nail paint remover, and Organic micellar water. Many people have tried and enjoyed BlushBee Organic Beauty products, which are created with a sense of obligation to conserve nature.
BlushBee Organic Beauty is the happy recipient of the 2022 "Industrial Outlook Award." It was named the best plant-based start-up. The vegan beauty brand was thrilled to be a part of the Femina virtual beauty carnival. It has also received a Filmfare endorsement. 
Founded in 2021, BlushBee Organic Beauty is trying to amplify the message of clean, organic and plant-powered beauty on a global scale. With a wide range of products added to its portfolio, BlushBee Organic Beauty is setting high benchmarks in the skincare industry.