Diwali, the festival of lights, is around the corner. We all have seen so many events celebrated in various metaverses worldwide and wondered why big festivals like Diwali are not celebrated there. Finally, we have the World's First Diwali in Metaverse! The celebration will happen on AltWorld — India's own Social Metaverse platform, between the 22nd and 24th of October.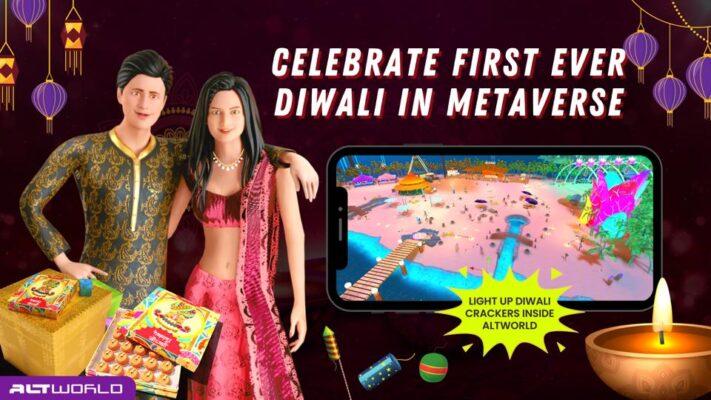 Subham Boundia, Co-founder at AltWorld, says "A strong component of user experience in any industry is the culture connect of the target audience. A virtual Diwali experience inside metaverse is our attempt to bring an Indian phenomenon into the wave of 3D content consumption for socialising in virtual worlds."
In AltWorld, people can join and experience the festival in a thrilling new way with Diwali-themed decorations and various activities to sparkle the festive vibe. People can create 3D Avatars that look like them, which include facial features, hairstyles, and dress up in multiple options available in clothing, footwear, and accessories. On top of these, there are also newly designed ethnic clothing options for users during this Diwali celebration.
There are various fascinating merriments for the users to enjoy with their friends & family on AltWorld. For example, users can eat & share 3D sweets and light up different types of crackers at AltWorld's favourite spot, the Beach Club. This is also an eco-friendly way to enjoy the fun of lighting crackers. This festival celebration also introduces the much-awaited "Night Sky" at the Beach Club. The whole club has been transformed and lit up with stunning lights for Diwali.
What is AltWorld?
AltWorld is a platform for users to play and create immersive 3D social experiences across genres. It is building a social-gaming Metaverse that hosts casual 3D experiences created by developers or users.
AltWorld recently hosted its 1st event property, Fan Jam — A "Meet & Greet" event line with some of India's biggest gaming influencers. Excited fans who follow these influencers on platforms like YouTube & Instagram interacted directly with these influencers on the AltWorld app. Around 10,000 fans joined the platform to meet their favourite gamers, and a staggering 2L+ people witnessed the event on YouTube.
People can join the Diwali festivities at AltWorld by downloading the beta app, which is available on Android & iOS devices here: AltWorld App Download