Lighthouse is a non-profit media enterprise that aims to connect the dots across cultures through diverse, inclusive, and powerful narratives. This global, intercultural community of authors, artists, and film-makers makes stories from distant cultures accessible to the world at large. Lighthouse is supported by its parent organization, the Melton Foundation, an international non-profit organization working on Global Citizenship. 
Lighthouse is fully operational in three major world regions — South Asia, South America (Chile and surrounding regions), and parts of the African sub-continent.
''Stories of Kisumu" to shed a light on Gender Based Violence 
Lighthouse's pilot project, 'Stories of Kisumu', is an attempt at shining a light on the plight of gender violence survivors in Kisumu, Kenya. This 10-part storytelling campaign unmasks gender violence and inequality at the roots through personal interviews, podcasts and video documentaries. Of the ten stories are real accounts of adversity, interviews with victims, and hair-raising tales of redemption, grit, and hope. Visit the full campaign here.
"It's been a tremendous learning opportunity for us at Lighthouse, dealing with subjects as sensitive as Gender Based Violence, Peace and Conflict, and yet, making them accessible and understandable through simple stories of everyday lives. We hope our work resonates with our audience. We are keen on uncovering more such campaigns, showcasing stories from the grassroots across the globe. We're trying to make diversity, equity, and inclusion a lived reality, one story at a time."  – shares Ashitha Nayak from India, Founder of Lighthouse. Ashitha worked on the pilot Stories of Kisumu campaign with co-founder and Chilean journalist Camila Huecho, Kenyan journalists Edwin Koga, Martin Nyawara, Steasy Atieno, Georgina Anyango, Joans Arodi, Vincent Aduda and team. The team continues to grow and divulge more campaigns globally, currently having onboarded over a 100 storytellers, interns, freelancers, and staff.
'Beyond the Borders of India and Pakistan

': Envisioning peace by forming friendships in environments rife with conflict.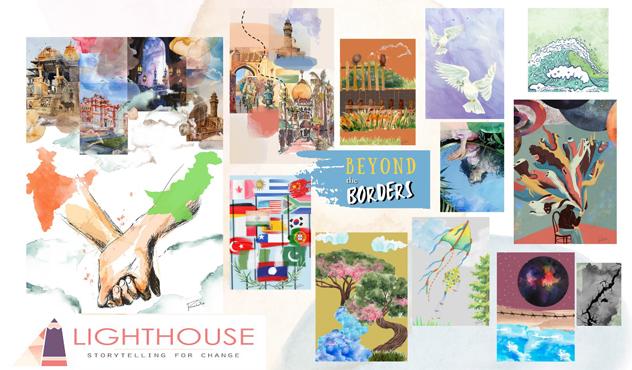 Currently, in collaboration with the Melton Foundation, Aaghaz-E-Dosti, South Asian Peace Project, and other organizations, Lighthouse has launched 'Beyond the Borders', a campaign that connects strangers across the India-Pak border to exchange letters, share stories, and bridge the conflicted cultural divide. The campaign is led by two students from India, and Pakistan, Shravani Vangur, an engineering student and Melton Fellow from Bengaluru, and Sara Hassan, a literature major from Lahore, Pakistan.
Lighthouse also organizes an annual Global Storytelling Festival to encourage citizens from around the world to share stories of collaboration and unity. The team aims to create a world where no culture seems too distant. The organization is also committed to growing a Spanish vertical in Chile, and parts of South America.
You can get involved with the organization by reaching out to them here, or following them on Instagram at @lighthouse.storytelling
The Melton Foundation is a 501C3 non-profit regd. in the USA, supporting the development of Global Citizens for 30 years now. The Foundation supports a plethora of projects all over the world and has exclusive Fellowships for young and motivated community development leaders. Read more about the organization here.