Anuprash Gupta a MBBS doctor from AIIMS Patna by education and a video producer by profession. Being born in a doctor family, his father is a pediatrician and mother a gynecologist. He really didn't have much career choices in his school days, he was very good in mathematics and always wanted to pursue engineering because that involves lot of maths, but his parents convinced him that most of engineers don't have good job and the best career option for his is medical sciences. Finally he managed to crack AIIMS entrance and got admitted to AIIMS Patna batch 2013.
During his 1st year in medical college he understood that this is not something he could do for a lifetime and he started looking for alternate career option, may be an MBA after graduation, may be civil services and that's when he discovered his love towards DSLR camera, he buy DSLR from his pocket money and love using camera and decided that he will going to make a his carrier.
Started learning new things by watching YouTube videos. After ended College in 2019 his parents told him again to prepare for PG entrance but this time he has some other plan. He had a huge fight with his father for this and his father said do whatever you can by your own, we will not going to support you.
He came to Noida in 2019 by Zero experience of doing business or producing any kind of video. He faced lot of difficulties during first year to pay flat rent on time is a big concern. During that time he got rejected by 99.5% companies that he approached for association. After sometime he started learning about b2b marketing strategies, launched his Facebook campaign and gradually clients started coming, business started growing and now he able to pay flat rent on time and survivable.
That's exactly when COVID lockdown happened and luckily he was a single man army till then, during lockdown designed his website, learned about google ads. When lockdown ended started the campaigns and he were back to business. Today he have a team of 6 member including him and he has many clients.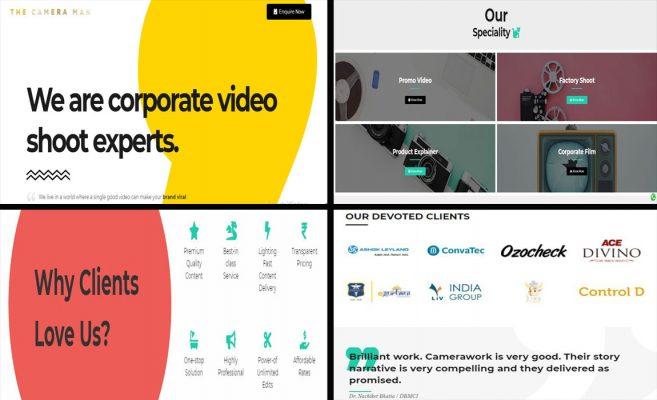 The Camera Man http://www.thecameraman.co.in/
After lockdown Anuprash boosting his company with his team, Growing clients, Introducing Innovative Video to the corporates and industries. The Camera man providing promo videos, Factory videos, Products Explainer, Corporate Films and Adv. Videos etc.