Established in mid-2019, Locofast is a B2B platform for the textile industry in India. Deepak Wadhwa, Locofast's Founder & CEO, is a second-time entrepreneur after finding WeAreHolidays, a B2B marketplace for travelers founded in 2011.
With a mission to empower textile manufacturers with a tech-enabled platform, the company facilitates smooth, hassle-free business operations. In addition, it provides unlimited opportunities to scale the business globally. With its headquartered in New Delhi, it is an online one-stop-shop that connects textile vendors who manufacture textile products to suppliers who manufacture, dye, print, and ready textiles.
The company caters to the needs of all players in the textile supply chain & helps them in their procurement needs.
What Makes Locofast Unique?
Despite being the second largest industry after agriculture & contributing significantly to our country's GDP, the textile industry remains untouched and unimpacted in technological advancement.
Wadhwa, equipped with the necessary technological expertise & invaluable operational experience, decided to leverage technology to improve the earnings of all the players in the industry.
Locofast streamlines operations and increases access to working capital and guaranteed business opportunities. Locofast remains a unique solution, especially for the textile B2B industry, and is a core innovation in this largely fragmented industry.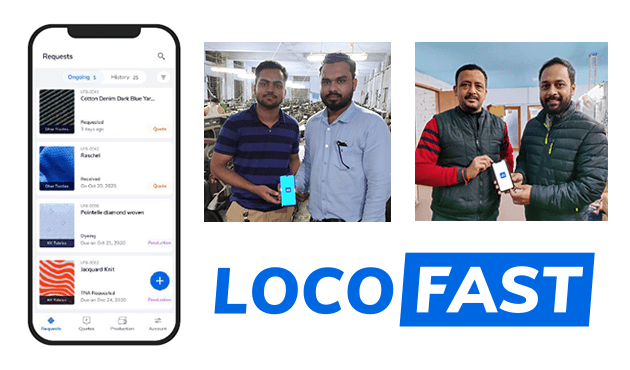 Mission and Vision Behind this Setup
Locofast aims to create a virtual, tech-facilitated ecosystem allowing all textile manufacturers to conduct their business conveniently and efficiently. With our proprietary technology system, the sole goal remains to revolutionize the supply chain in the textile industry. 
Services and Products Offered
Locofast being an online marketplace, acts as an intermediary between textile vendors and suppliers. With its easy-to-use application, vendors can raise requests for bulk orders for customized, ready-to-use textiles at their preferred rate. Further, the request is then transferred to the suppliers, who can bid for the contract with their own offers. Next, from the various bids, the vendors choose that one supplier to whom they award the contract. Once the contract is awarded, Locofast's account managers overlook the entire process until the final product is satisfactorily delivered to the vendor. This entire process, facilitated through the highly detailed, process-centric Locofast cloud platform, simplifies the supply chain process considerably by ensuring a transparent, hassle-free process from start to finish for both vendors and suppliers.
Solutions Offered to the Problems Faced
One of the biggest challenges in the sector is that textile is an extremely low manufacturing efficiency industry. The textile supply chain is not streamlined and causes inadvertent manufacturing process delays.
Also, the textile mills across the country have also demonstrated low utilization rates, because of which the purchasing costs of raw material are also higher. On the other hand, manufacturers are troubled with inflated procurement costs and unstable deliveries. Taking all these into consideration, Locofast's vast network of mills, along with its tech-enabled platform, helps manufacturers source textiles in the shortest possible time and at best prices while at the same time ensuring a steady supply of business for our suppliers.
Success Stories- Achievements and Milestones Achieved
Locofast has successfully partnered with over 500+ suppliers in the two years since its inception. Together they have supplied over 50 million meters of textiles to 700+ brands, including the manufacturers of Zara and H&M in India. They've even worked for international brands like TJX, Cotton: On, and Primark.
Locofast has successfully raised two rounds of funding and will be looking at raising another round of financing in 4-6 months from now.